I Was Their American Dream: A Graphic Memoir
By Malaka Gharib
Publisher: Clarkson Potter
Publication Date: April 30, 2019
BOOK REVIEW
I first learned about Gharib's I Was Their American Dream on social media then shortly after, I saw it at a local book fair so I had to get it!
This graphic memoir explored significant topics about race and diversity that many of us in America constantly experience. It conveyed something that was familiar to me and yet so unique. Stories like this that are diverse on religion, culture, and nationality topics are rarely seen. Unless I search for them on the Internet and forgotten bookshelves at the library, I don't get to see stories that I can relate to or read about. More importantly, it was portrayed in a creative way and on a "trendy" medium such as a graphic novel, so I was very excited to have found this book.
This book is quite relevant to me on many levels having immigrated to the United States when I was a teenager. I have certainly been "whitewashed" after having moved away from home at an early age. It is a continuous struggle for me to try and connect with my heritage and I could empathize with many of the instances mentioned in this book. The questions Gharib were asked as a high school student, "What are you?" was a reminder to when I was intermingled with other military service members. Having served in the military, I was exposed to many different types of racial backgrounds and nationalities. Questions such as "What are you?" and "Where are you from?" were more common than having asked, "What's your name?"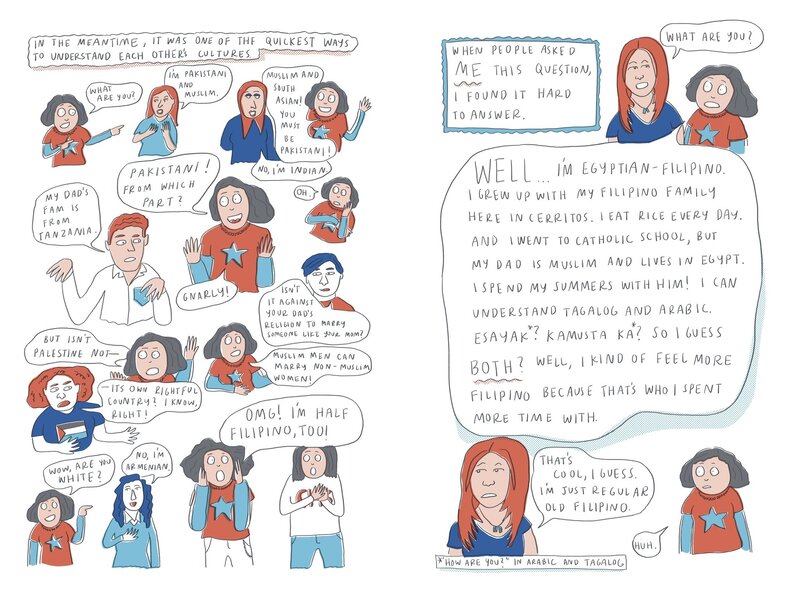 Finally, the illustrations and graphics are unpretentious. I like the simplicity of it which supplemented to the great storytelling instead of inundating it with more unnecessary details. As one reader had pointed out, Gharib had used the colors red, white, and blue extensively to represent her American culture among the amalgamation of other events in her life. It's like she's telling us that with all the pages in the chapters of her life, they paint the colors that make her a true American.
The one thing that I regret was not knowing that Gharib herself was at the book fair, and it would have been cool to get her autograph my copy 🙂
In The News
NPR.org